Transport Package:
Wooden Case
200mA X-ray unit with radiographic (AM-200)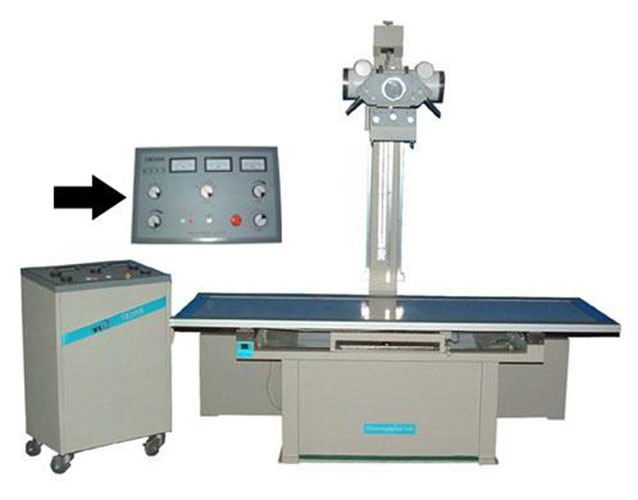 USE:
General photograpy; Filter-ray device photograpy.
Characteristics:
1.    The power supply voltage V and KV are infinitely variable control.
2.    The machine is equipped with mA, KV and S interlocking protecting device of subsections and grades.
3.    The machine is equipped with the protection device of X-ray filament manostat, space charge compensation and anode start.
4.    Power supply voltage, radiographic KV and mA display separately and are observed easy.
5.    The machine with no top and bottom track is installed and operated easy.
6.    Transverse moving of upright post, lengthways moving of arm and rotation of X-ray tube unit are all equipped with electromagnetism braking device.
7.       Diagnostic bed, which is equipped with electromagnetism braking device, can move not only transversely but also lengthwise.
Technical data:
ITEM
CONTENT
INDEX
 
Demand of power supply
Capacity
Two phase 30KVA
Voltage Frequency
380V/220V±10%  50Hz±0.5Hz
Internal resistance
380V: 0.9Ω, 220V: 0.3Ω,
Power supply
Adjustable range
380V±10% at 380V; 220±10% at 220V being adjustable continuously
 
Radiographic
Voltage
50-100KV being adjustable continuously
Current
Small focus 50mA
Big focus 50, 100, 150, 200mA
                                    Time
0.05-6.3s, 20grades together grading according to R10 coefficient
High-voltage generator
Capacity
20KVA (instantaneous)
Max DC output voltage
100KV
Max DC output current
200mA
X-ray tube
Model
XD51-20,40/100
Focus
Small focus: 1x1mm, Big focus: 2x2mm
 
Radiographic table
(TR-SC1)
Table face (LXWXH)
2000mmx780mmx680mm
Moving range of table face
800mm in length
240mm in breadth
 
Ray-filter
Travel in length ≥560mm
Grid density N28
Convergence distance of 100cm
Grid ratio r8
Pillar of x-ray tube unit
Moving in length along radiographic table
1600mm
Distance to ground as moving up and down (along upright post)
700~1800mm
Rotary around the center of cross arm
±1800
Rotary around the shaft line of x-ray annular tubes
-100~600~+1200
Max size of cassette for radiography
 
356mmx432mm (14"x17")
Amber Sterile Serum Vials are primarily used for mixing different medications or solutions for injection or research applications like HCG, heparin, lidocaine, diabetic medications and morphine for intravenous or syringe injections. Finished vials can meet the FDA`s authorised 14-day sterility test.Amber Sterile Serum Vials are produced by aluminum caps, non-latex butyl stoppers and clear SCHOTT Neutral Type I glass vials. The production process of sterile Serum Vials is carried out under strict Class 100 workshop.
Amber Sterile Serum Vials
Amber Sterile Serum Glass Vials,Amber Serum Vials,Amber Glass Serum Vials
China Lemon Trading Co.,Ltd , http://www.lemonvial.com